Myth of the pick-off attempt ceiling
When I was a kid, the Washington Nationals' color commentator warned pitchers that attempted three consecutive pick-off attempts. "If you throw over three times, they know you're definitely not going to throw over a fourth," he'd say, giving baserunners the green light to steal.
But yeah, of course, they sometimes did throw over four times in a row. Color commentary is hard: tell charming stories against the entropy of an unfeeling universe and the thorough record keeping of baseball nerds.
Speaking of the thorough record keeping of baseball nerds, there's a research project called Retrosheet with play-by-play data from most games since the 70s. Here's the bottom of the 3rd from a recent game.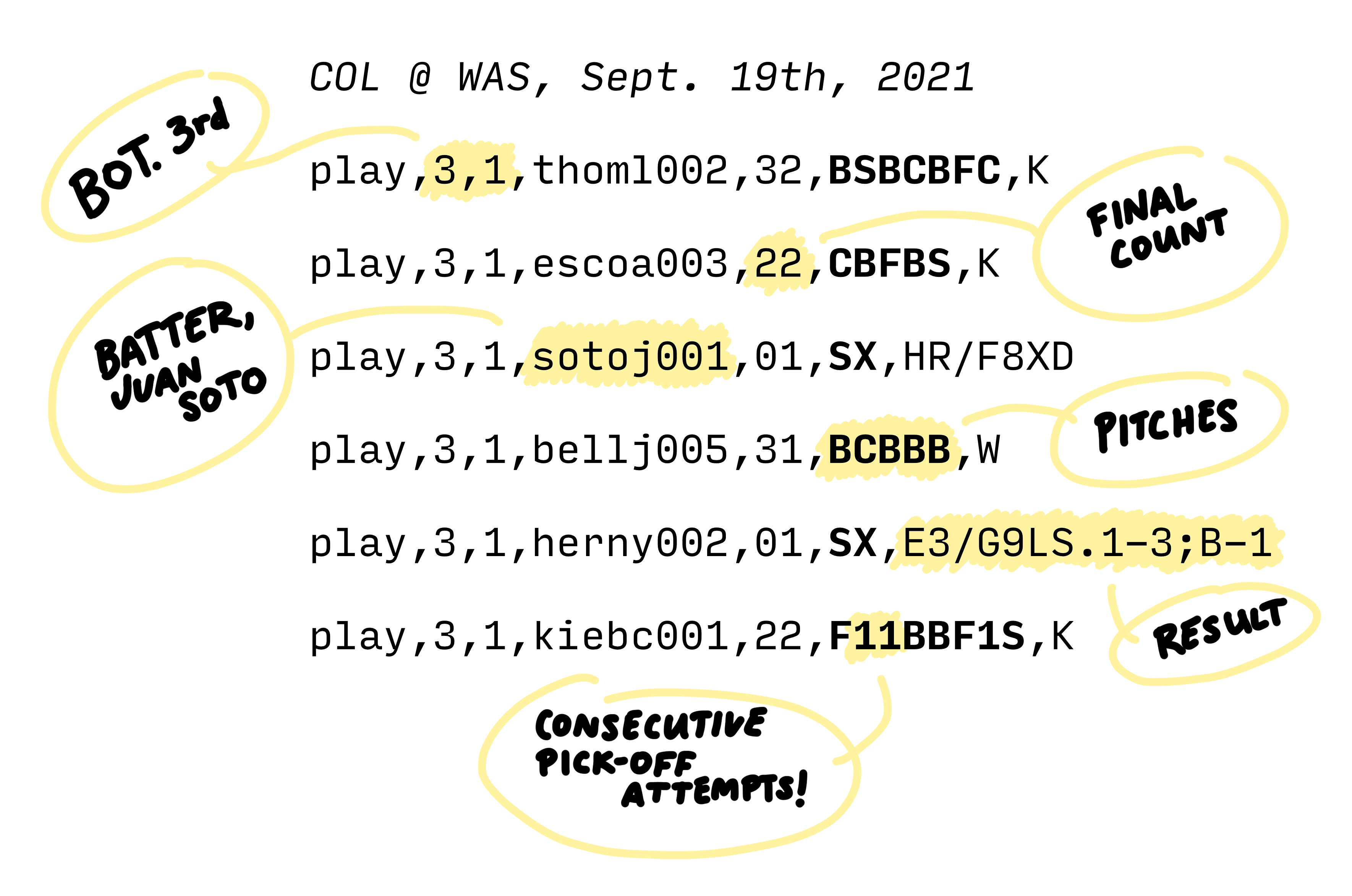 Of particular interest are the pitches. Each symbol represents an action.
+

following pickoff throw by the catcher

*

indicates the following pitch was blocked by the catcher

.

marker for play not involving the batter

1

pickoff throw to first

2

pickoff throw to second

3

pickoff throw to third

>

Indicates a runner going on the pitch
B

ball

C

called strike

F

foul

H

hit batter

I

intentional ball

K

strike (unknown type)

L

foul bunt

M

missed bunt attempt

N

no pitch (on balks and interference calls)

O

foul tip on bunt

P

pitchout

Q

swinging on pitchout

R

foul ball on pitchout

S

swinging strike

T

foul tip

U

unknown or missed pitch

V

called ball because pitcher went to his mouth

X

ball put into play by batter

Y

ball put into play on pitchout
So we can go through every game and count consecutive pick-off attempts—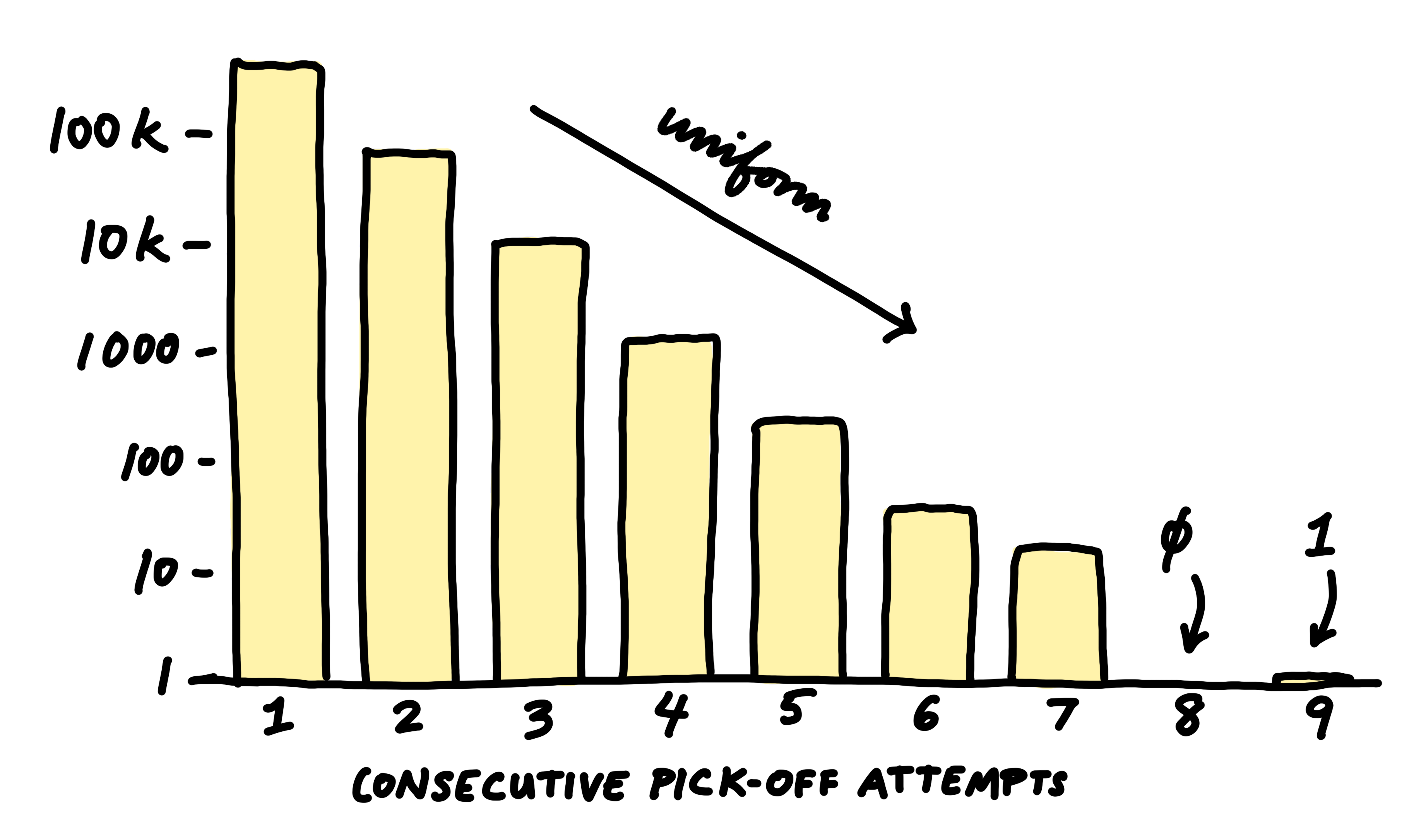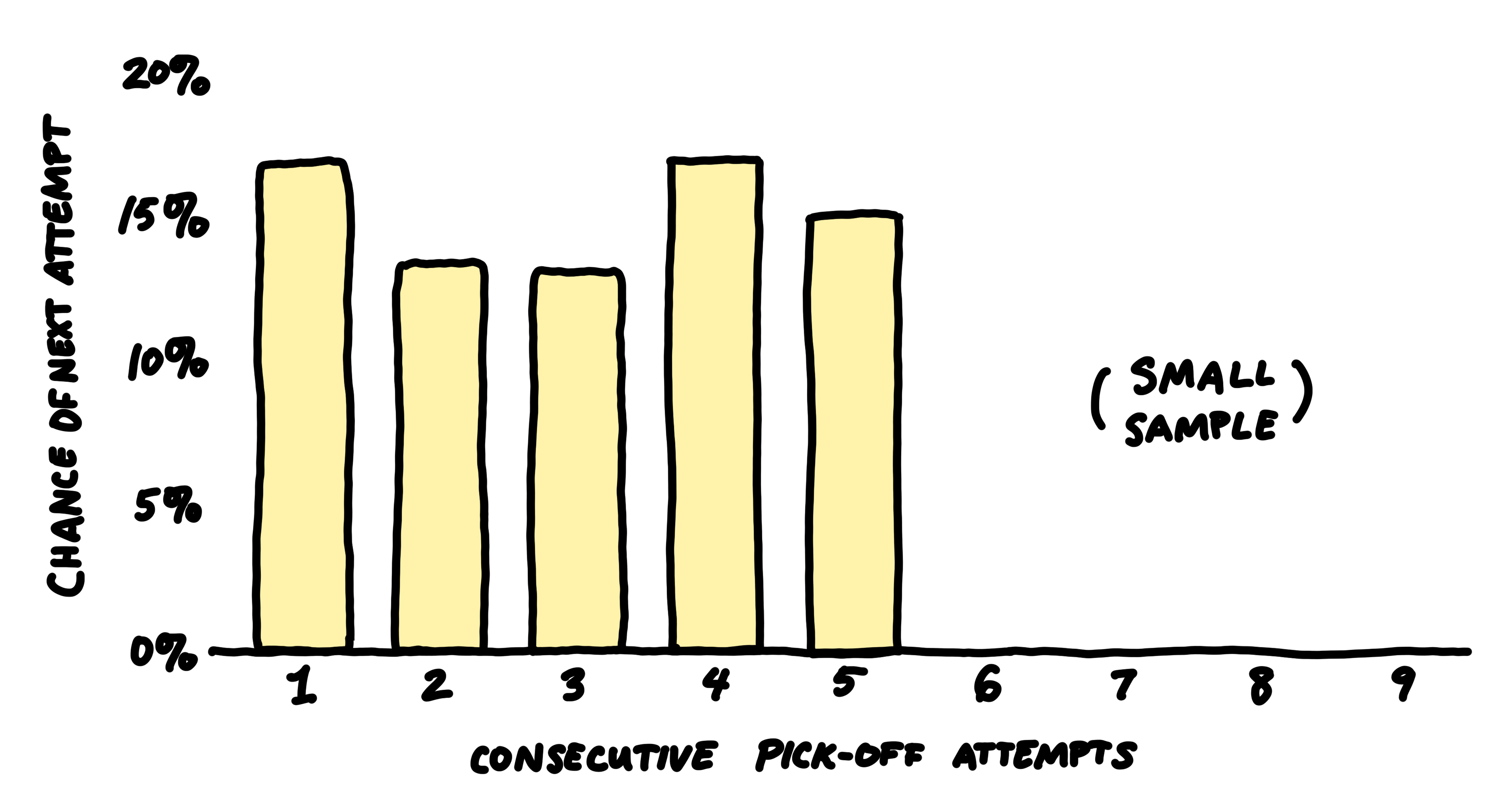 —and find that further pick-off attempts are equally likely no matter how many have already been thrown.
At the extreme, though, the pick-off attempt ceiling may have merit.
The most consecutive attempts in Retrosheet were thrown by Brewer Reggie Cleveland at White Sox baserunner Ron LeFlore on September 10th, 1981. Weirdly, Retrosheet and Baseball Reference list it as happening twice that game, but it really only happened once.
Aboard on a walk, LeFlore drew nine throws from Cleveland before Reggie threw a pitch to Tony Bernazard. Finally, LeFlore stole, and catcher Simmons' throw was wide.
– Richard Dozer, "Sox get back on winning track by clobbering the Brewers," Chicago Tribune, Sept. 11, 1981, E7.
And most recently:
Hamels worked at a much faster pace but irritated fans by making seven straight tosses to first base with Eric Young Jr. aboard.

Young stole second anyway.
– "Cole Hamels leads Phillies past Mets 6-2 with arm, bat," Associated Press, Aug. 28, 2013.